Canada is well known for its cold water destinations, but not as much for the surf competitions those waters host. With its terrific waves, Tofino's coastlines in British-Columbia happen to be home to the very few that exist. Next September 30th, female surfers on the west coast will be heading to Queen of the Peak, an annual Women's Surf Championship created by the Surf Sister School of Surfing and Shelter Restaurant. The OuiSurf team hit the two founders with questions to get to know more about this very unique event leveraging the Canadian surf scenery.
Meet the founders
Mike Jacobsen 
Mike grew up in South Surrey/White Rock nearby Vancouver, and got his first taste of surfing down at San Onofre, Southern California while visiting family. Something about the feeling of getting to his feet on a surfboard for the first time pushed him to travel to many places, such as Costa Rica and Indonesia. He visited Tofino eight years ago just for the summer in order to surf, but the way of life and people of Tofino have kept him there. He is now very proud to call Tofino home, where he gets to enjoy the serene beauty of the surrounding area and surf on the daily. Mike now runs the Shelter Restaurant and is the captain of the Tofino Fire Department.
Krissy Montgomery  
Krissy grew up on the east coast Vancouver island of Nanaimo. Most of her youth was focused on trying to score rides to the west side of the island to camp and surf in Tofino. One day she packed up her car with friends and drove out to Tofino for the summer that never ended. Her first 'green' wave she ever caught was at Cox Bay, gliding down the line and seeing seaweed pass beneath her board. She was hooked and has been there ever since. In 2003, Krissy was hired at Surf Sister as a Surf Instructor and after managing the business for six years, she is now the proud owner operator.
How did the Queen of the Peak is born? 
Mike: Back in 2009, O'Neill came to town with the Coldwater Classic that was a Qualified Series Event (WQS) for the men's world tour. In Tofino, it's really unique, there's way more women per quotas that surf here than anywhere else in the world. So myself and Krissy Montgomery from Surf Sister decided we should do a women's contest leading up to that next contest. And since a bunch of the women that surf in Tofino are married, have kids and have lives outside of surfing, unlike pro surfers, we said, ''Okay let's do a cool surfing event where we have bunch of unique amenities that are focused towards women and that make them feel really special.'' That was the idea and the concept behind it.
Now fast forward, the contest is in its seventh year and it has grown a lot. The first year it was only a two day contest, now we've grown into a three day contest. We have a hundred competitors, and there's $10,000 in cash and surprises.
Who are the competitors, what is their average profile?
Mike: I don't think there's any way to put all of the competitors in a box. For instance we have a 12 year-old sponsored by Billabong. She's a fantastic surfer who will probably represent Canada at the Olympics. Last year we had a hard working mother of two kids, who surfs really well. There's just such a diversity of women involved in the event, it's hard to say that there's like even an ''average''. There is an age range from 12 to the forties.
We also have women joining us from as far away as Hawaii and California, the Pacific Northwest like Oregon, Washington and of course from BC.
We know a couple girls who'd be stoked to participate in the competition.
Do you have any tips for girls from outside Tofino that would like to be part of the adventure next year?
Mike: For anybody who's been surfing for some time, it's a fantastic surf contest to participate in. You may not go through a bunch of heats. But the camaraderie amongst the women surfing is unlike anything I've ever seen in any other surf event. They're just stoked to share the water with only women that whole weekend. The surrounding events that go on give it a family feeling.
Krissy: It's very inclusive. It's not only for athletes, it's for everybody. It's such a good way to start into contesting to see if you like it. People take it seriously but at the same time like to have fun.
Any women participating from Québec?
Krissy: We know two participants from Québec. Marie-France Roy (who was part of the 2015 Kooks & Hurricanes show!) and Lydia Ricard, who has been living in Tofino for the last couple of years and has taught surfing at Surf Sister ever since.
How is Queen of the Peak different from the other surf competitions out there?
Mike:
It's not a

bro down

event, you know

.

In men's competition, it is very competitive, very edgy whereas with this women's competition, they support each other.
There's a different feeling that is hard to describe. It's a really good feeling, and their smiles are infectious. Also, as mentioned, it is a family oriented event and so we decided to offer babysitting services, we have massages available and chiropractic on the beach which makes it very special.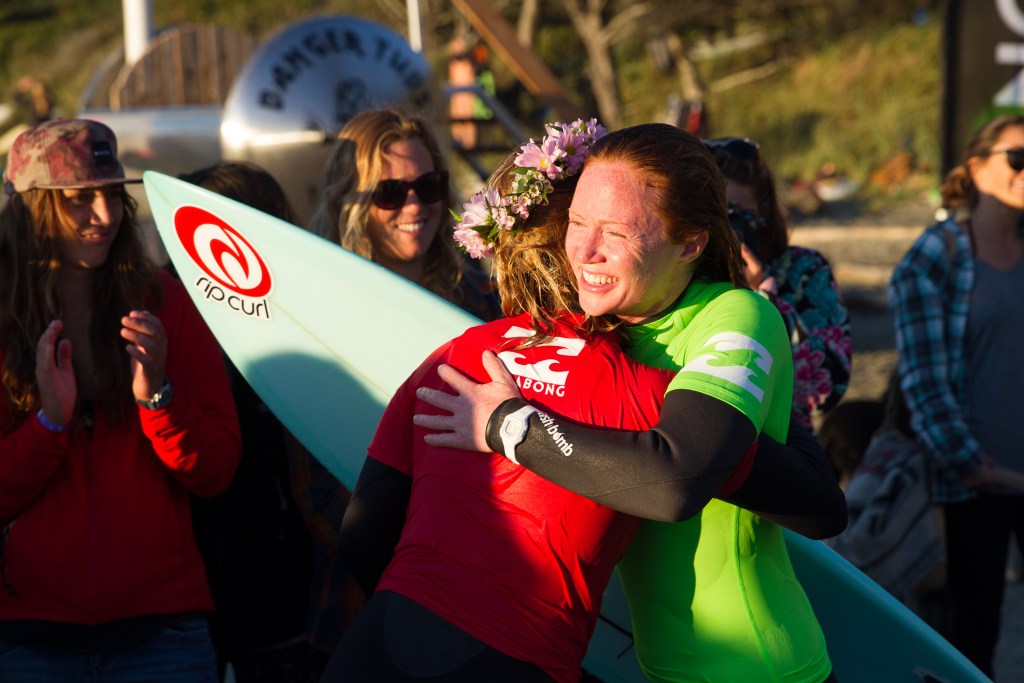 What's an average surf competition day at the Queen of the Peak?
Mike: Before the contest, all of the women come into Shelter Restaurant and have a free dinner. So we get them there, talk about last year's event and then celebrate the one ahead.
The day of the event, organizers go down to the beach for first light, so around 6:30 AM. Then, they make a call on conditions because there are a couple locations (at Cox Bay) where the competition can take place. When they've decided where the competition will be held that day, judges arrive around 7:00 AM and the first heat hits the water at 8:00. Afterwards, a morning show which is a recap from the day before is projected on screen, and the heats continue. Everything is broadcast on live cam. It stops around 4pm, but the festivities continue. Saturday, there is the Full Moon film premiere at Shelter Restaurant and Sunday is when the quarter of final, semi final and final happen, followed by a wrap up party held at the Legion.
The Legion… is that a bar?  
Mike: (laughs) Well, kind of! You know, Tofino is not a big city, there's only like 2 000 people living here so there's no club. But it's very fun, there's a DJ and a lot of dancing.
Tofino is one of the major, if not the most important surf town & surf destination in Canada. We guess the local community is pretty into it? 
Mike: The local community is very supportive and the main reason for that is it has always been a community event. We focus on developing youth surfing, and our Princess of the Peak division, for instance, is very well received. It really does help support the surf generation to come.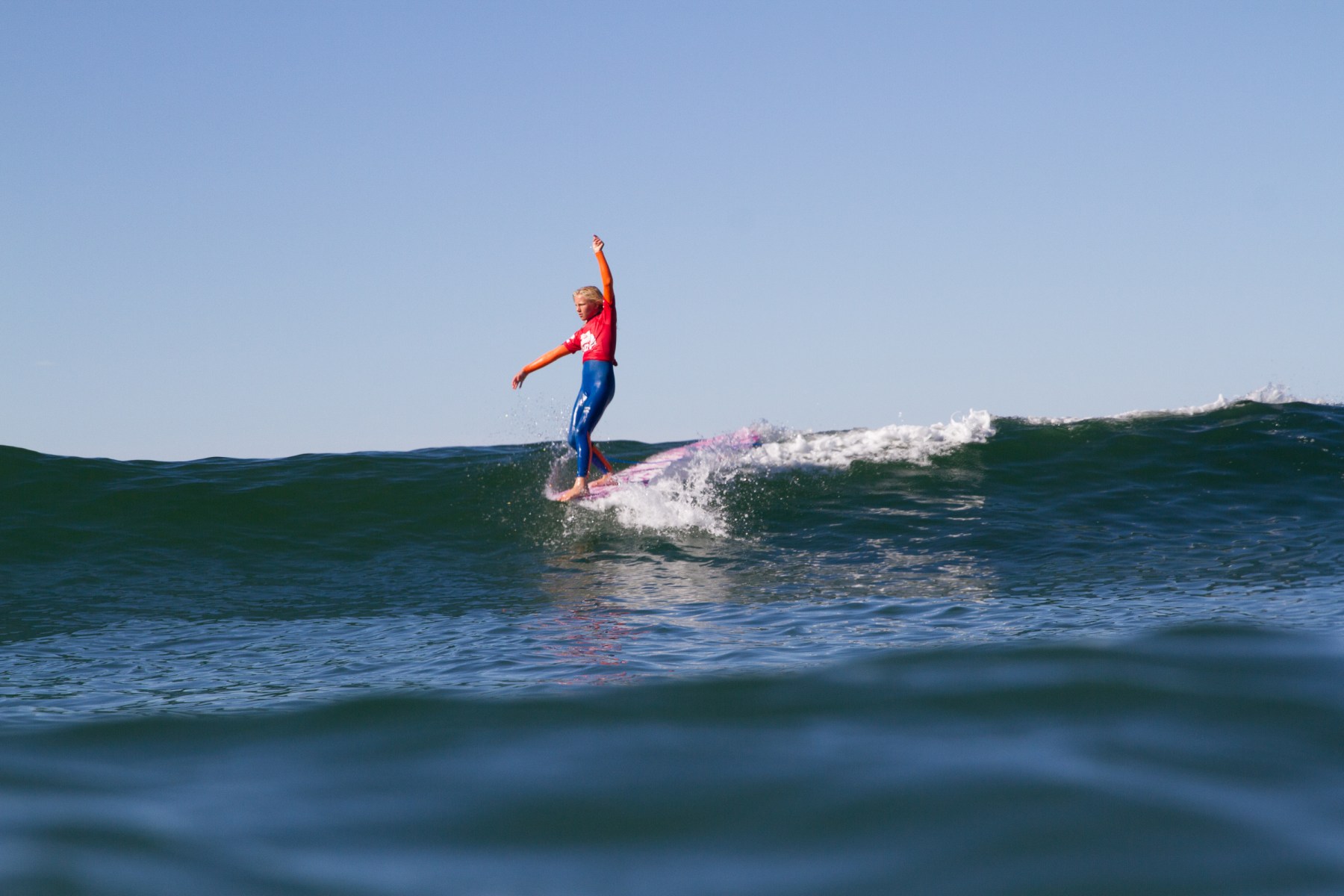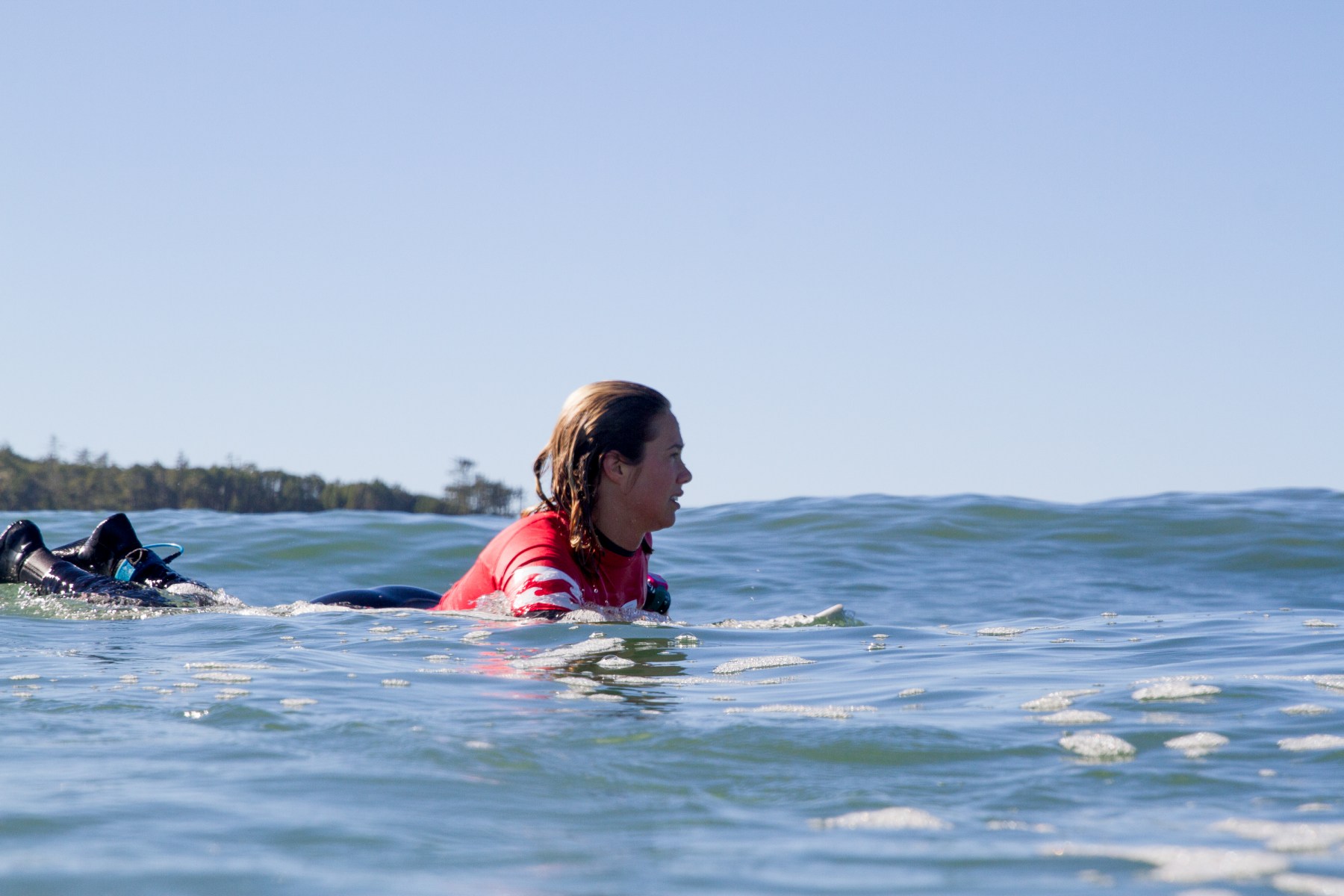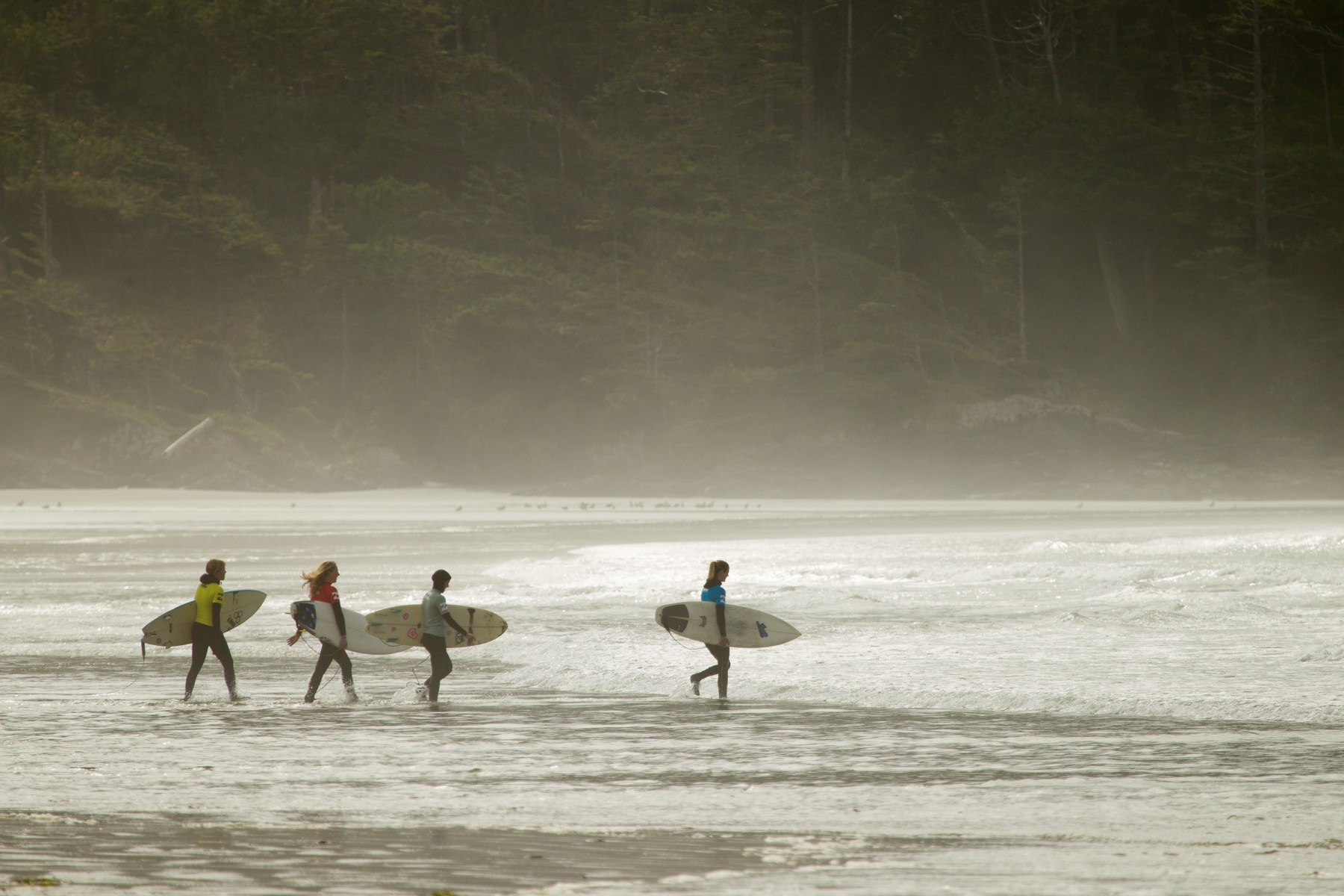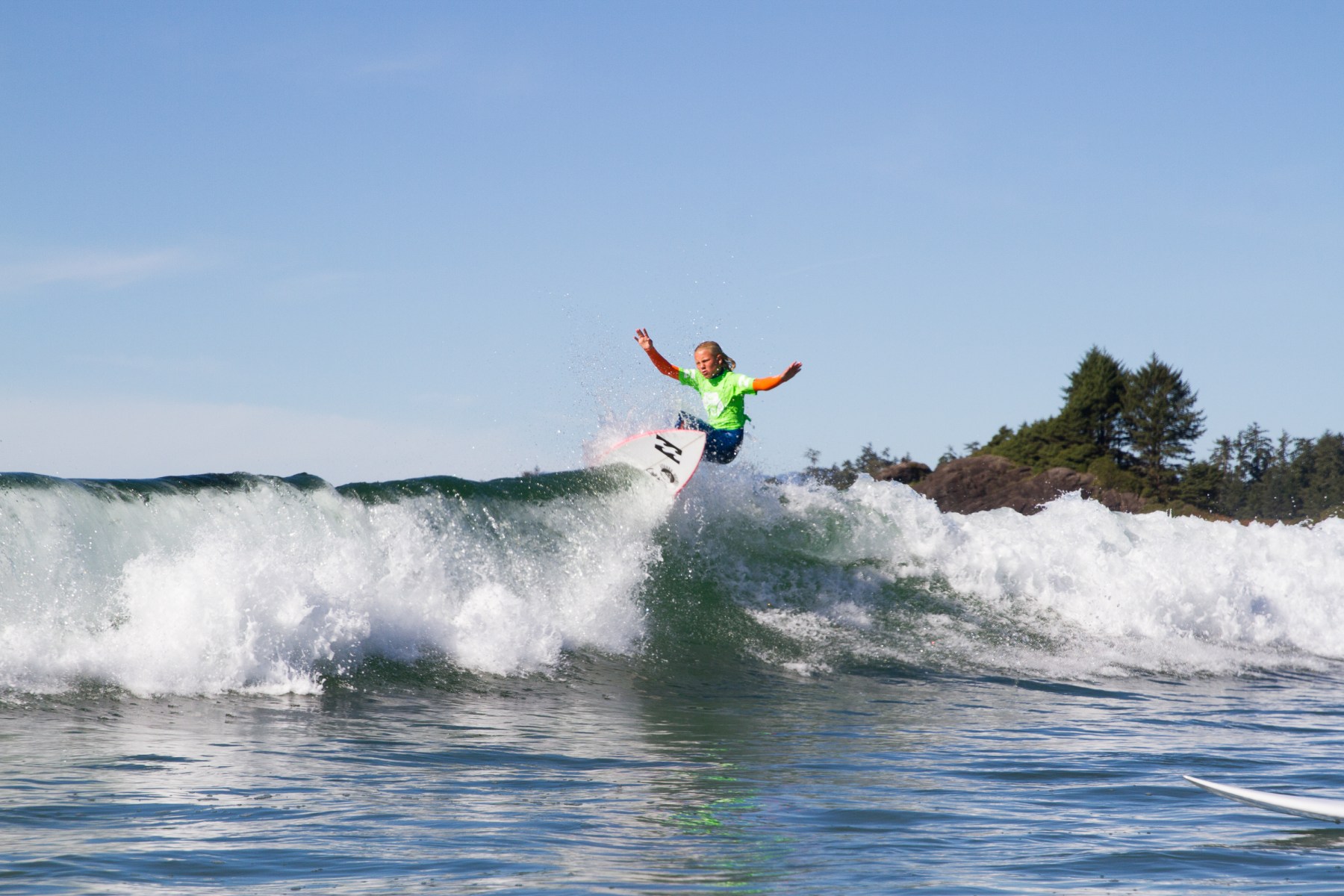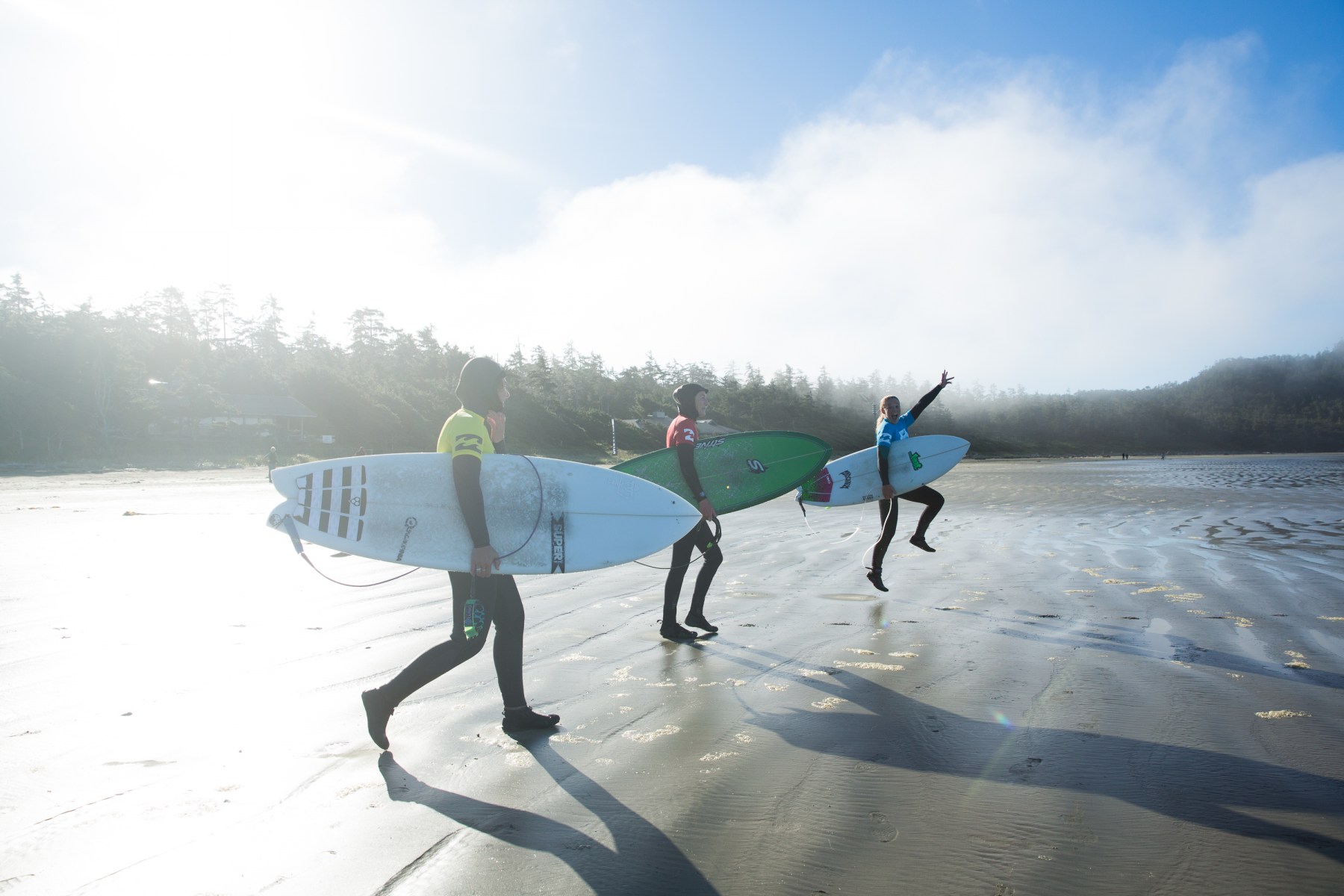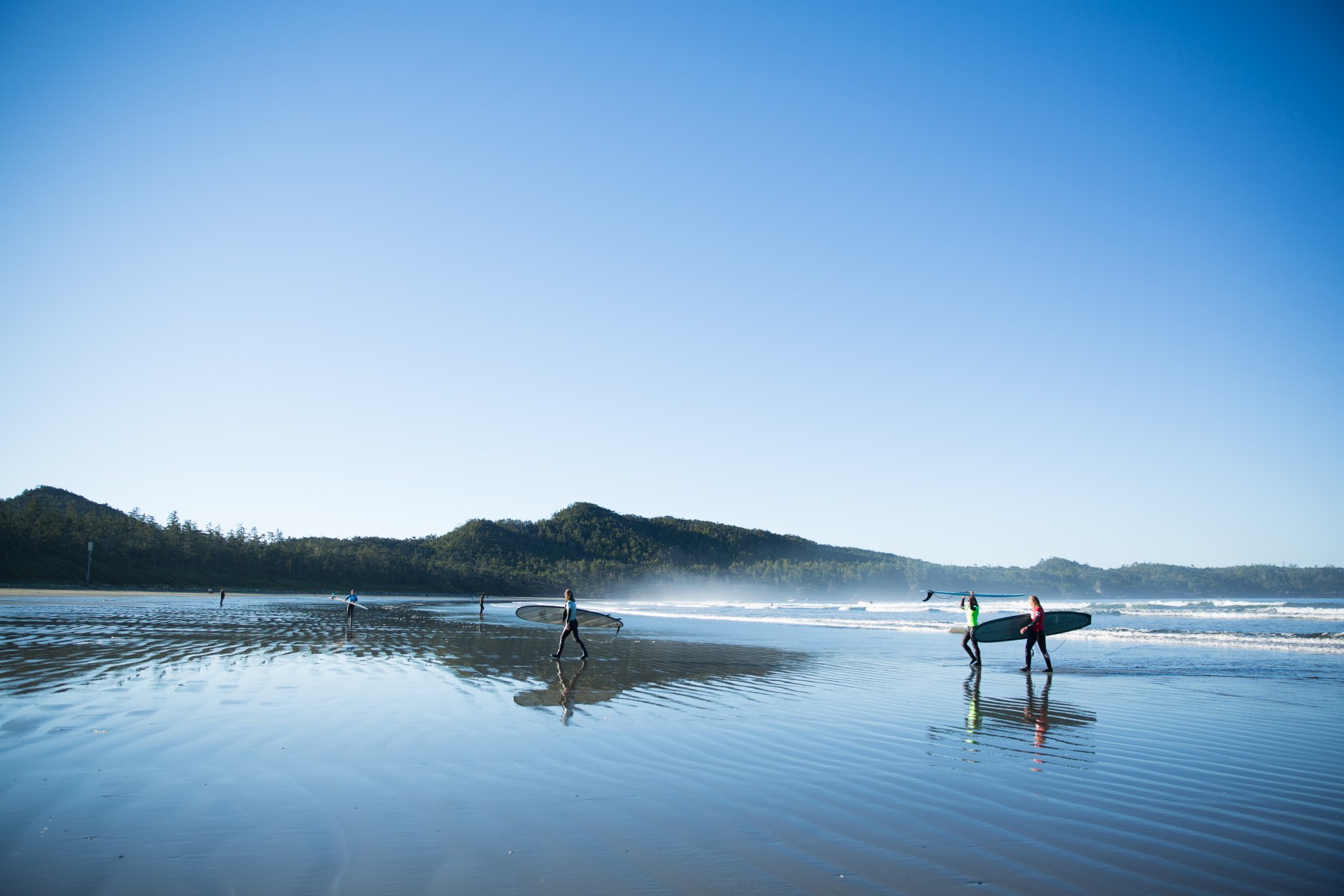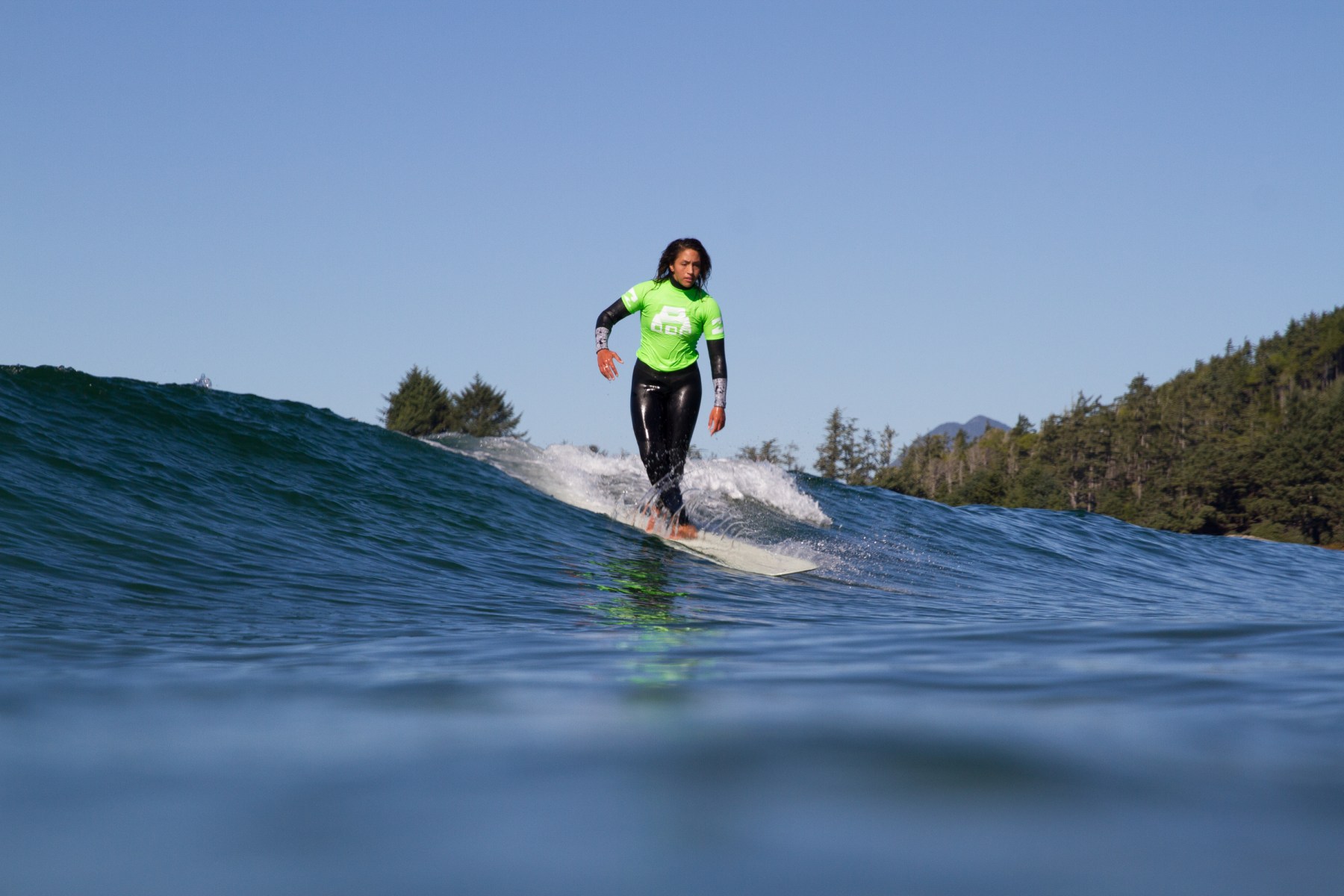 What is the ultimate purpose you'd like to achieve through the event?
Mike: That's a good question with multiple answers. Firstly, we want to grow the sport of surfing and the healthy lifestyle that surfing sorts of creates. We also want to showcase Tofino & its surrounding beauty, the different service providers, restaurants and just make Tofino as a location.
We want to grow the contest to be one of the largest woman competition of North America.  
How do you see the competition evolving through the next few years?
Mike: We increase the prize every year in order to attract talent, bigger competitors and make people want to fly to Tofino. I would love to see Canadian women surfers grow and get better and ultimately see a Canadian woman on the podium during the next Olympics in Tokyo in 2020.  
2015 winners
Hanna Scott, 2015 Champion, Shortboard
Hanna was born in Victoria and now lives in Tofino. After surfing for 10 years now, she can tell it is her favourite thing to do on Earth, and is grateful of all the people and places she's been able to meet and explore through it. Hannah will compete in this year's Queen of the Peak, where she now has won 3x in the shortboard category and 1x in the longboard category. 
Mele Saili, 2015 Champion, Longboard
Mele grew up in San Diego in a family of surfers. She started surfing at 13, and since then, has participated to many competitions such at Noosa Surfing Festival in Australia and the invite-only competition Deus 9ft & Single in Canggu, Bali, getting a solid 3rd after Leah Dawson and Kassia Meador in 2014. When she doesn't travel to chase waves, Mele paints and draws, which she started doing way before surfing.
Mathea Olin, Princess of the Peak Champion (under 16 years)
At only 13, Mathea has won in her category, Princess of the Peak, for three years in a row, on top of many competitions in California. Tofino is her backyard, but she travels for international competitions such as the Vissla ISA world junior championship in Azores, Portugal, from where she just came back. Aspiring to become an Olympic athlete, Mathea is getting closer and closer to her dream.
Don't miss out the exclusive live broadcasted next September 30th – October 2nd, 2016 on our website.